Robert Murray Stamp Shop, Edinburgh
Established 1977
Members SPTA, PTS
Scotland's Best-Stocked and Most Popular Stamp Shop



COINS, MEDALS, and BANKNOTES
Although principally stamp dealers, we do also deal in coins, medals and banknotes. A variable general stock is held at our shop, and we are always interested in buying new stock. We do not specialise in any particular area, and many collectors (and dealers) look in on us regularly to see what is new.
BUYING

Page under construction. Content is valid, but is still being added to and finalised.


GOLD MARKET PRICES





Click chart to run actively (please allow 15s to load)


Click chart to run actively (please allow 15s to load)


Click chart to run actively (please allow 15s to load)



Gold Coins; we are happy to buy odd gold coins singly or as part of a collection. However, should a customer have a valuable holding of gold coins (i.e. at least about £1,000) we offer a brokerage service where we inspect and identify a customer's coins, and find a good buyer, normally very quickly, and obtaining as high a market value as you are likely to obtain anywhere. For this we simply charge a commission. The rate of commission is normally between 5% and 10% (+ v.a.t.), depending on the size and difficulty of the lot. We would always advise our fee before proceeding, and for very large sales our commission could be lower.

One FAQ; "Will my coins be melted down ?"
As dealers we often talk about "scrap value", "bullion value", and "gold value", and we probably use the terms too loosely. Although the price of the majority of gold coins is directly related to the price of gold (the "bullion value" etc.) it does not mean that such coins will be scrapped.
The strong point about gold bullion coins is that they are a recognised medium for the transfer of a certain weight of gold of a known purity. I like to say "the coin is its own hallmark". This means that gold coins, anywhere in the world, only need basic checking to see if they are genuine. You know exactly how much gold there is, and when you tell another buyer or seller about the coin they know exactly what to expect. If you had just a lump of untested gold it would need to have its purity and exact weight checked every time it changed hands; and this would be an extra expense at every transaction.
So if a dealer talks about "scrap value" of gold coins, what they really mean is "the nominal value of the gold content of the coins, based on which a trading value will be ascertained".


Scrap Gold; In years gone by we didn't deal in scrap gold and silver; we saw it as being too far removed from our main area of business. However, with increased precious metal prices coupled with the appearance of hard-advertising gold-buying companies, we realised we could probably get better prices for our customers while still making business for ourselves.
If you come in to us with scrap gold or silver which can be easily assessed (weight and purity) we should be able to quote a price there and then. If items need to be checked, we have trusted colleagues in the trade who can do this for us. We usually charge a percentage brokerage fee for doing this (see above).

All our transactions are legal, above board, and documented. If you are coming in with gold or silver for sale, please bring photographic official identification with you (passport or photographic driving licence).

Appointments are strongly advised. Please phone to fix a suitable time.

Sovereigns. A UK gold sovereign contains exactly 0.2354 of a troy ounce of gold. The charts below (which can be set to update automatically) show the current price for one troy ounce. If you were selling to or through us, you'd normallt expect to get between 94% and 97% of the nominal gold price. Half sovereigns have exactly half the weight of gold, gold two pounds double the weight, five pounds have five times the weight, etc. Many modern sets come with a card giving the specifications of the coins.

Fakes and Forgeries; We will check any gold coins coming in to us, and should we have any doubts as to whether a coin is genuine, we'll explain why we have any suspicion, and what can be done to check the coin.

Brokerage;

SELLING

Auctions in Edinburgh. We hold a stamp auction every few weeks (and this usually includes a non-philatelic section, often with banknotes, medals, or coins). About every third sale we have a Stamps and Collectables Auction which comprises all manner of things apart from stamps. From time to time we hold specific specialised auctions of banknotes or coins. Click here for more information about auctions. Some indication of buying prices for British coins here.
If you are planning to bring in any material for us to see with a view to sale, auction, or valuation, please contact us first to arrange a suitable time for an appointment. (You may be asked to provide identification.)
Charities; many charities collect quantities of coins (UK and Foreign, current and obsolete) which they then sell to us, and find that this can be a very lucrative source of funds. Some do this at the same time as collecting stamps and postcards.



---
Page about two pence coins || Page about one pound coins || Page about silver threepenny coins ||

---
Robert Murray Stamp Shop
5 & 6 Inverleith Gardens
Edinburgh EH3 5PU
Tel 0131 552 1220
Tel 0131 478 7021 Send us
an email
---
Last updated Friday 5 October 2012. Copyright Robert Murray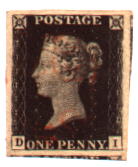 Click the Penny Black to go back to our home page. | Click here to go to our site contents page.